Een etmaal ondergronds met Van Onderen
Binnenkort vindt in Paradiso met festival Van Onderen een bijzonder evenement plaats. Vanaf zaterdag 7 januari 12:00 uur tot zondag 8 januari 12:00 uur is de Amsterdamse poptempel 24 uur lang non-stop geopend en kan het muziekminnende publiek een etmaal lang genieten van Nederlandse underground. Naast een gevarieerd programma komt het festival met een indrukwekkende line-up met onder meer The Fire Harvest, zZz, Naive Set, Iguana Death Cult, Green Hornet, The Ex, The Avonden, Nouveau Vélo en Blue Crime.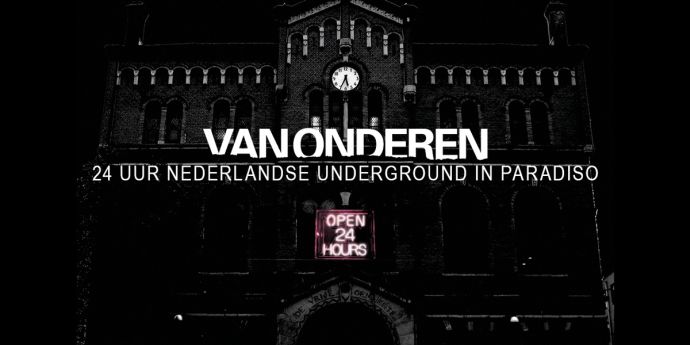 Het is de eerste keer in het 48-jarig bestaan dat Paradiso 24 aaneengesloten uren geopend is voor bezoekers en het gebouw een etmaal lang toegankelijk is om het succes van de Nederlandse underground-scene te vieren met een keur aan artiesten, labels, DIY magazines, fanzines en andere initiatieven.
Voor het gehele programma en line-up verwijzen wij naar de website van festival Van Onderen.