Legendarische gitarist komt met bijzonder nieuw studio-album
Op 1 september verschijnt met 'We're All In This Together' een nieuw album van de legendarische Amerikaanse blues(rock) gitarist Walter Trout. Het samen met een groot aantal muzikale vrienden opgenomen 'We're All In This Together' is het eerste studio-album sinds het in 2015 verschenen 'Battle Scars', de plaat waarop Trout openlijk reflecteert op zijn intense strijd met de dood en zijn uiteindelijke herstel na een levertransplantatie.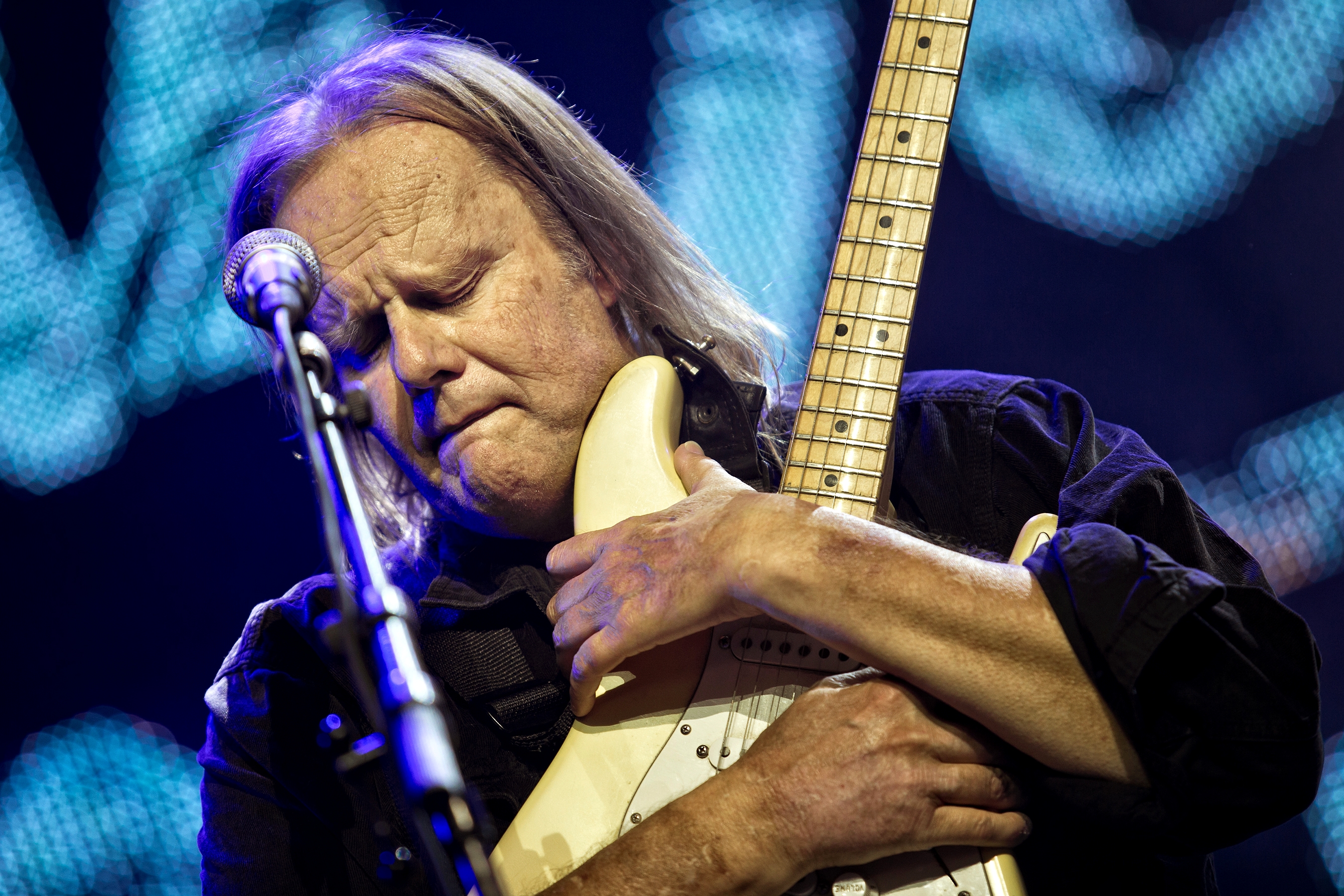 Afgelopen juni was Walter Trout nog in ons land voor een optreden als afsluitende headliner op festival Ribs & Blues. Als wij hem na afloop ontmoeten in een hotel in Raalte volgt een uitvoerig gesprek waarin hij ons off the record al liet weten dat deze plaat er aan zat te komen. Alleen mocht dit toen nog niet in de publiciteit komen en hebben we hier geen melding van gemaakt in het eerder door ons gepubliceerde interview

Het uit veertien tracks bestaande 'We're All In This Together' is onder meer bijzonder omdat deze plaat tot stand gekomen is met de hulp van dertien muzikale vrienden en zijn zoon Jon Trout. Zo zijn op dit album bijdragen hoorbaar van John Mayall, Joe Bonamassa, Kenny Wayne Shepherd, Sonny Landreth, Joe Louis Walker, Warren Haynes, Randy Bachman, Charlie Musselwhite, Edgar Winter, Eric Gales, Mike Zito, Robben Ford en John Nemeth.
Sonny Landreth
Albumopener is het samen met Kenny Wayne Shepherd opgenomen Gonna Hurt Like Hell, gevolgd door Ain't Goin' Back met Sonny Landreth, de virtuoze slide-gitarist waarvan Trout in ons eerdere gesprek al het volgende zei: "Sonny Landreth is voor mij echt dé allergrootste slide-gitarist op deze planeet. Wat die man kan op slide-gitaar is echt mindblowing en niet van deze wereld."

John Mayall
Trout is ook bijzonder trots op de bijdrage van John Mayall in Blues For Jimmy T. Zelf maakte Trout vijf jaar deel uit van de legendarische John Mayall's Bluesbreakers en hij is nog altijd zeer trots dat hij zichzelf een voormalig Bluesbreaker mag noemen. Ook roemt hij deze leeftijdloze 'Godfather of British Blues' voor zijn werk-ethiek. Zo liet hij ons weten dat hij 'voor wat betreft touren en het leven 'on the road' gevormd en hard geworden is in zijn jaren bij John Mayall & The Bluesbreakers'.
Warren Haynes

Op het album staan ook een aantal tracks die Trout opnam met vrienden uit het recente all-star project The Super Sonic Blues Machine waaronder Mr. Davis met Robben Ford, Somebody Goin' Down met Eric Gales en The Sky Is Crying met Gov't Mule frontman en gitarist Warren Haynes.
Joe Bonamassa
Zeker ook bijzonder is het samen met zijn zoon en talentvol gitarist Jon Trout opgenomen Do You Still See Me At All. Afsluitende nummer is We're All In This Together met goede vriend Joe Bonamassa die onlangs (evenals Trout in 2015) nog bekroond werd met de SENA European Guitar Award
Overigens hebben wij dit samen met Bonamassa opgenomen al eerder mogen horen. Want als we hem aan het eind van ons gesprek in Raalte beloven dit off the record te houden, pakt hij zijn telefoon en laat hij ons in de tuin van het hotel trots We're All In This Together horen. Het op dat moment via zijn telefoon beluisteren van dit nummer was voor ons dan ook een bijzondere primeur.
Maar inmiddels is het verschijnen van 'We're All In This Together' door Trout zelf wereldkundig gemaakt en kunnen de fans het album binnenkort aanschaffen en beluisteren.

Photo Walter Trout: Rijno Boon Photography
WALTER TROUT – 'WE'RE ALL IN THIS TOGETHER'
Release date: USA: August 25, 2017 | Europe: September 1, 2017
Available formats: 2LP+MP3 | CD | Digital
Label: Provogue Records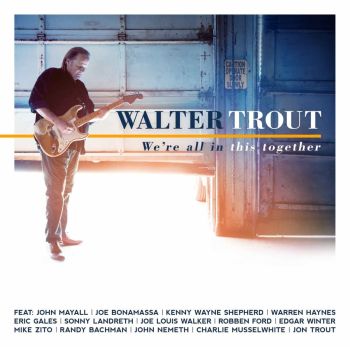 1. Gonna Hurt Like Hell feat. Kenny Wayne Shepherd
2. Ain't Goin' Back feat. Sonny Landreth
3. The Other Side of The Pillow feat. Charlie Musselwhite
4. She Listens To The Blackbird Sing feat. Mike Zito
5. Mr. Davis feat. Robben Ford
6. The Sky Is Crying feat. Warren Haynes
7. Somebody Goin' Down feat. Eric Gales
8. She Steals My Heart Away feat. Edgar Winter
9. Crash And Burn feat. Joe Louis Walker
10. Too Much to Carry feat. John Németh
11. Do You Still See Me At All feat. Jon Trout
12. Got Nothin' Left feat. Randy Bachman
13. Blues For Jimmy T.feat. John Mayall
14. We're All In This Together feat. Joe Bonamassa