(GESLOTEN) Free Ticket-actie King of the World in Luxor Live
Winnaars Sjors Dicker en John Koenen.
Bluesliefhebbers opgelet! Op vrijdag 26 mei staat met King of the World één van de beste Nederlandse bluesbands van dit moment op het podium van Luxor Live in Arnhem. King of the World is al jaren een graag geziene bluesband op diverse poppodia en festivals. In oktober 2016 verscheen met 'Cincinnati' het vierde album van de band. Wil jij deze ongetwijfeld spetterende bluesshow bijwonen? LiveStreamMagazine geeft i.s.m. Luxor Live 2 X 2 Free Tickets weg.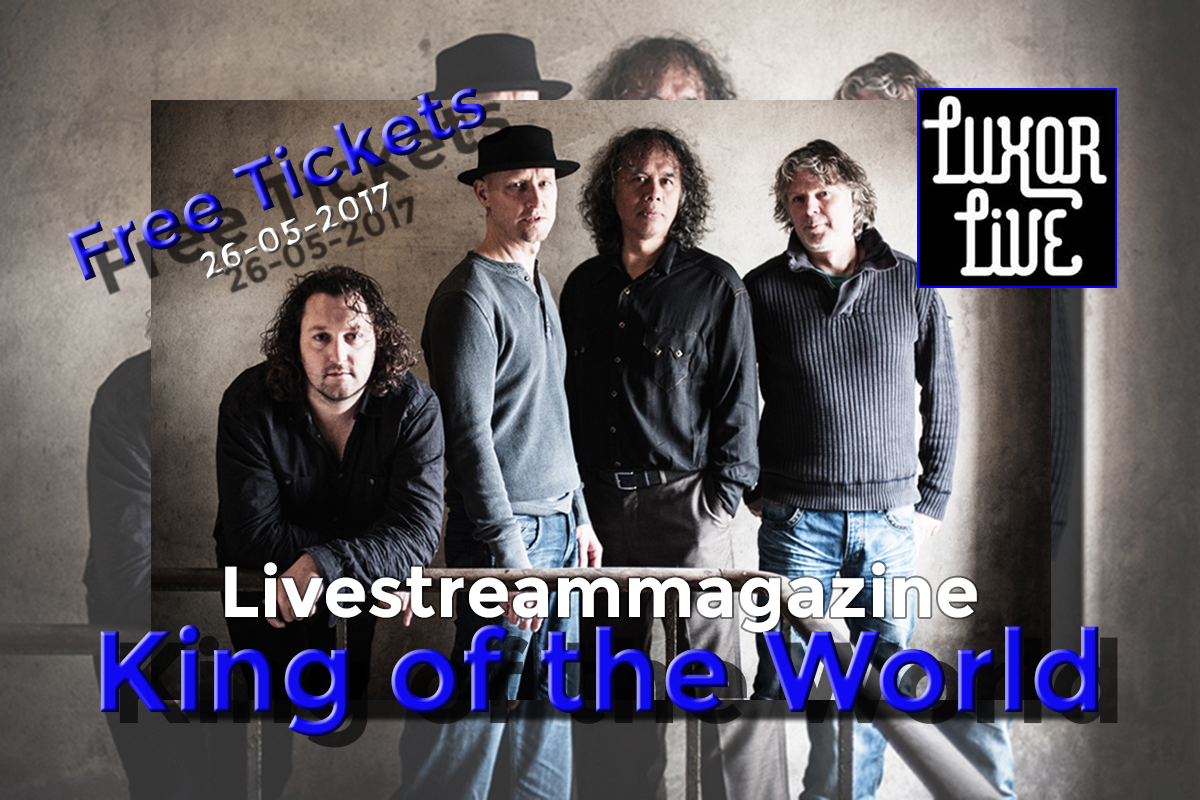 Sinds de oprichting in 2012 is het hard gegaan met King of the World en de samenstelling van deze door Erwin Java en Fokke de Jong opgerichte band heeft hier zeker aan bijgedragen. Erwin Java is één van de beste gitaristen van Nederland en Fokke De Jong drumde eerder bij Normaal. De band bestaat verder uit toetsenist Govert van der Kolm en zanger/bassist Ruud Weber die eerder dit jaar de Dutch Blues Award 2016 ontving in de categorie bassist.
Onder leiding van producer Erwin Musper (o.a. Anouk, Scorpions, Def Leppard, David Bowie, Mick Jagger) nam King of the World in de Bamboo Room Studio's in Cincinnati, Ohio (USA) het meest recente album 'Cincinnati' op. Voor de komende show op vrijdag 26 mei in Arnhem geven wij i.s.m. Luxor Live 2 X 2 Free Tickets weg.
Doe mee en win. Stuur een email naar info@livestreammagazine.nl en geef antwoord op de onderstaande vraag:
Noem een andere Nederlandse (blues)band waarin Erwin Java eerder actief is geweest?
Zet duidelijk je naam en achternaam in de mail met als onderwerp Free Tickets King of the World en stuur deze vóór 24 mei a.s. naar info@livestreammagazine.nl
Winnaars worden per email op de hoogte gebracht.
Deze actie is reeds gesloten.