Interview with Blues (Rock) legend Walter Trout
The surprising and glorious comeback of the legendary blues (rock) guitarist Walter Trout on international stages, is so to be called a miracle. In 2014, Trout literally faced death, after doctors determined that he needed a lifesaving liver transplant. At that point no one, not even Trout, assumed that he would ever be on stage again.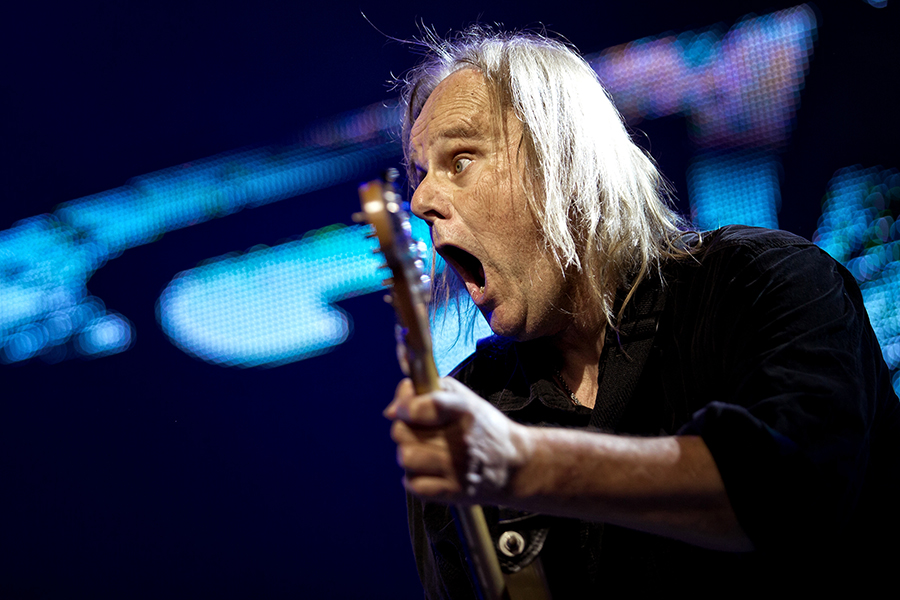 Somewhere around the middle of 2014 Trout successfully undergoes the liver transplant and to everyone's surprise, we find him back on stage again on the 15th of June, 2015. Trout's comeback is in the Royal Albert Hall in London and after that he kicks off his extensive "I'm Back" World Tour. He also releases his album 'Battle Scars' on which he openly reflects on his intense battle with death and his final recovery.
In 2015, Trout receives the prestigious Sena European Guitar Award at Amsterdam's Club Ziggo and the following day he performs at the Royal Theatre Carré in Amsterdam. The recordings of that show are collected on his album 'ALIVE in Amsterdam' that was released on the 17th of June, 2016. Later that year Trout appears at the Holland International Blues Festival in Grolloo with The Super Sonic Blues Machine alongside Billy F Gibbons (ZZ Top), Robben Ford and Lance Lopez.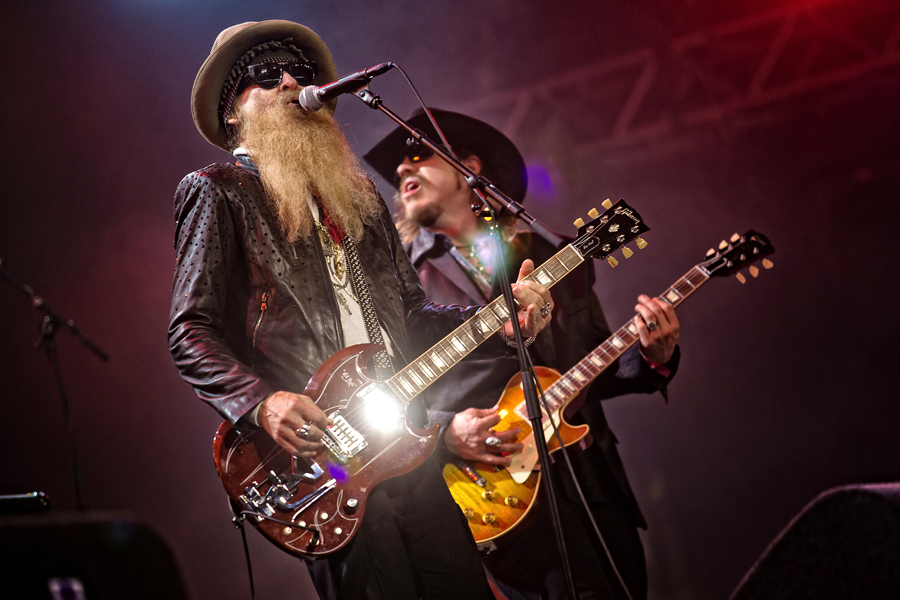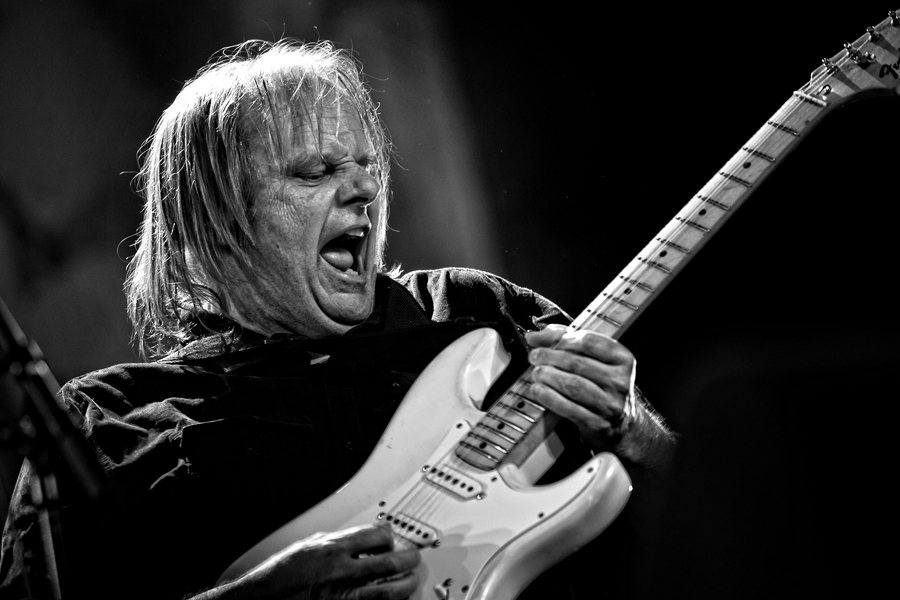 Since then Walter Trout tours the world almost constantly, not only with his own shows but with the before mentioned Super Sonic Blues Machine as well. For us all the more reason to have a clarifying talk with him.
Initially, the interview would take place before Trout hits the stage as final headliner at the Ribs 'n Blues festival in Raalte (Holland), but due to a delayed trip from Russia, he first needs to rest before the show. When we meet later that night at the hotel, I'm able to submit Trout to some questions. Finally the interview ends up in a conversation that lasts more than two hours and in which we discuss serious subjects alternated with jokes and gags.
The moment we sit down at a terras table at the Westcord Hotel in Raalte, Trout shouts out to a band member: "Shit man, I forgot my stroopwafels from my hotel room last night!". It's quite a coincidence that we brought along a small gift for mr. Trout: Stroopwafels. "Come on man! Are you kidding me. You did!? Good karma dude!" From that moment on we're cool obviously and Trout is ever so ready to do this interview.
I understand you just came from Russia. Did you perform with your own band or with The Super Sonic Blues Machine?
"That's correct, I just came from Russia where I did a show with The Super Sonic Blues Machine".
Alright, how was it? And with whom did you share the stage?
"The show in Russia was awesome, I was on stage with Johnny Lang and Lucky Peterson".
The Super Sonic Blues Machine consists of Billy Gibbons, Robben Ford, Lance Lopez and yourself, isn't it? That's how I saw you guys perform last year at the Holland International Blues Festival in Grolloo.
"The Super Sonic Blues Machine is an all-star project with changing members. At the Holland International Blues Festival the band also consisted of bass player Fabrizio Grossi, drummer Kenny Aronoff and Alessandro Alessandroni on keys, and he is a true master. Alessandro has played on all the Whitney Houston albums and has been the musical director for Nathalie Cole for ten years. He recently toured with Stevie Wonder and he's the assistant director of the Stockholm Symphonie. So yeah, he's a big shot".
In contrast to your recent show in Doornroosje, Nijmegen you brought a different bass player to the Ribs 'n Blues Festival. Can you tell us why and who is he?
"Our bass player Johnny Griparic is temporarily out of the running due to personal circumstances. Now we have John Avilla on bass, who happens to be the brother of our keyboard player Sammy Avilla".
I just saw him playing on stage and I must say I'm impressed. What a great bass player.
"John Avilla is truly a great bass player who has played with several great artists. Among others he worked with Neil Young and Steve Vai".

Your son Jon Trout regularly joins you on tour, but he's not here today.
"Jon joins me on tour very often indeed And if so, I always invite him on stage to play a couple of songs with me. He couldn't make it this time, I've asked him, but he's busy with his own Jon Trout band."
Your son Jon is also a meritorious guitarist. I assume you've taught him how to play the guitar?
"I can see why that's obvious, but actually he's self-educated. When he was about eight years old he developed a serious interest for music, but initially he was focussed on playing drums. Only years later he discovered the guitar".
How do you feel about him following in his father's footsteps?
"I don't have any problem with that. If he chooses music with his heart, it's fine with me. As long as he doesn't get distracted and taken away, like me, by booze, drugs and women".
Do you have more children? And are they musicians or maybe guitarists too?
"I have three children. Jon, Mike (20) and Dylan (15), and they're all into music. Mike is a drummer and guitarist. Dylan is a very good drum teacher. They also do things together under the name "The Trout Brothers Band".
It's really amazing and admirable that only one year after your liver transplant and recovery, you were back on stage in the Royal Albert Hall in London. After that you went on with your I'm Back World Tour, followed by the ALIVE European Tour and you've been touring almost non-stop ever since. How do you manage and persist?
"I know, it's hard to believe but I can only say that performing live gives me so much energy. I really got a lot in return from the audience and fans. And I'm so grateful for that. I can't think of anything else that I want more. Other than to be on stage, playing for my fans and giving them all I've got."
I can imagine that you had to change some things, pay more attention to your health. And for example, rest in between shows.
"Of course I try to take care of myself more and sometimes I do schedule an extra day off. But in the end, I like to play on stage and do shows. A lot of shows."
'Playing with John Mayall & The Bluesbreakers really shaped and hardened me'
Besides the many shows you also need to travel a lot while being on tour.Is there anything you do differently now?
"I try to take a moment of rest before or after a show. I took a nap this afternoon before I tread the boards. But when I'm on stage, I get such an energy boost and I give it all. After that, I'm usually tired and need to rest again".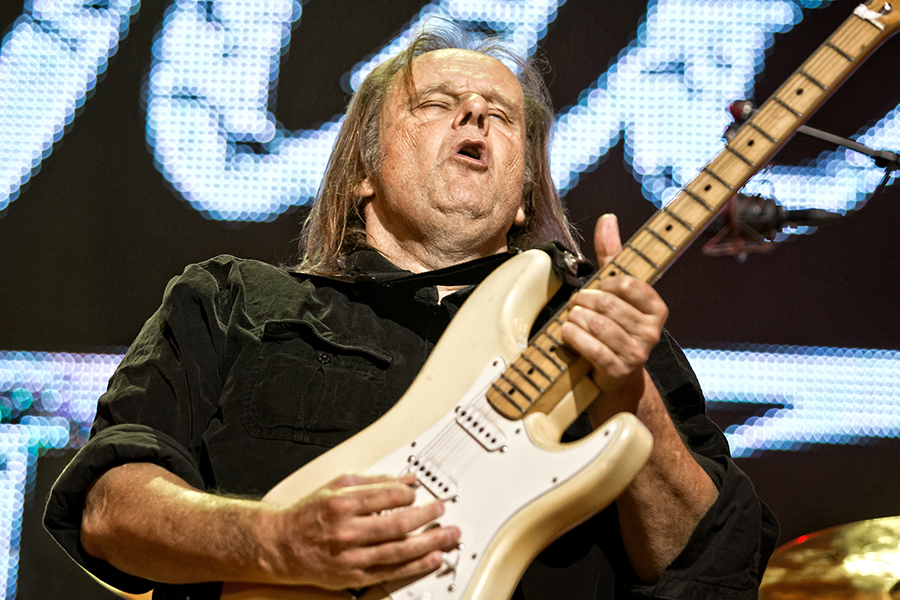 You've been touring for quite a while now and apart from your own shows, you also perform with The Super Sonic Blues Machine.
"Yeah, right, all and all it's a lot of touring and playing, but what I do with The Super Sonic Blues Machine is also a lot of fun. And make no mistake, I've played with John Mayall & The Bluesbreakers and those years really shaped and hardened me. I mean, I tour and play a lot, but that man takes it to a new level. That's really amazing. We did extended international tours with dozens of shows on a row and practically no days off. With The Bluesbreakers we easily hit 58 cities in 60 days. That was the work ethic of John Mayall and he hasn't change a bit. I believe that's still his work ethic at the age of 83, haha"
'Sonny Landreth is thé greatest slide guitarist on the planet. What he can do on a slide guitar is out of this world and mind blowing'
You just mentioned John Mayall, but you were also played in Canned Heat and you worked with great artists and guitarist such as BB King, John Lee Hooker, Luther Allison, Big Mama Thornthon, Joe Bonamassa, and many others. A name that caught my eye was soul legend Joe Tex. What about him?
"The collaboration with mr. Tex wasn't such a big thing. It was limited to a few times. I do remember it was hard working and once Mr. Tex only payed me 40 dollars after a few shows. And it turned out to be false money, haha"
You've also worked with slide guitarist Sonny Landreth.
"Oh man, working with Sonny was always great. For me, Sonny Landreth is thé greatest slide guitarist on the planet. What he can do on a slide guitar is out of this world and mind blowing. I've told him so a thousand times, but he's always so very humble and he even feels awkward when you speak of him that way".
In 2015, you received the prestigious Sena European Guitar Award at Club Ziggo in Amsterdam. You also received a new guitar at that award ceremony. Do you ever play on it?
"No, actually I don't. It's way too heavy for me to play on nowadays. You know, in the years before I found out that I was ill, I was tired and dizzy all the time, I had cramps in my fingers and neck when I was playing. At first I thought it was because of me getting older and this was the price I had to pay for the tough life I had as a musician. But it only became worse."
On what guitar do you play most now?
"I'm not a guy with dozens of guitars. When I find a guitar that I can become one with, I stay loyal to it and we share an intense and loving relationship. With Song for my guitar, I even wrote an ode to it. The last few years I'm playing on a guitar specially built for me, but before that I played on the same guitar for years".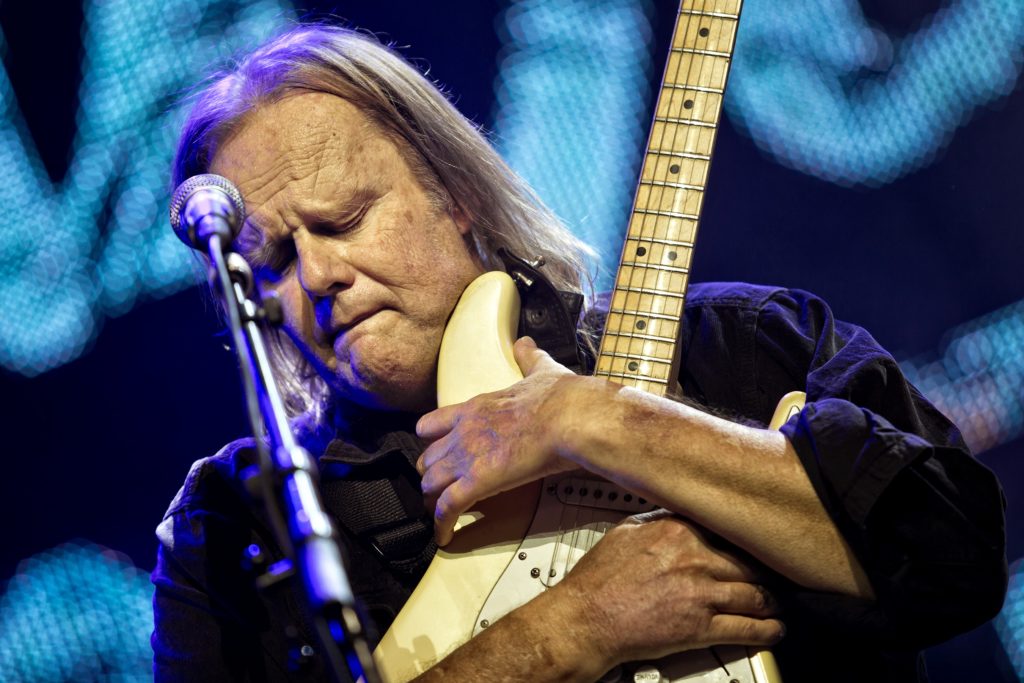 What can you tell us about your current special built guitar?
"I've played it now for about eight or nine years. The body is made out of balsa wood, which is pretty light weighted. It's got a Fender Stratocaster neck and a Seymour Duncan pickup."
'When I have found a guitar that I can become one with, I stay loyal to it and we share an intense and loving relationship'
Throughout the years, your music and lyrics have dragged me through periods of pain, grief and personal loss. Especially in times I needed it most, I turned the volume up to ten and your music gave me comfort and ease. I sincerely want to thank you for that.
"That's really nice of you to say that. I think you just described the essence of music. For me this is what it's all about. That's why I make music and love being on a stage to play for people who take comfort and strength out of my music. This gives me energy too, it's an interaction. To hear this, it's the most valuable and meaningful feedback I can get. No review or what so ever can compete with that."
'Daniel found strength and comfort in my music after the terrorist attack in the Bataclan.
It led him out of the shadows and he wanted to live again.'

"I once got an email from Daniel, he lives in Austria and he wrote me that he and his girlfriend were in the Bataclan in Paris during the horrible attack that took place there, Daniel got badly injured and laid between bodies of the dead and injured victims for hours, while the terrorists inflicted a bloodbath with their machine guns. For hours, he heard the screaming of people fearing for their lives until he finally got rescued and was taken to a hospital in critical condition. After this traumatic event, Daniel got emotionally blunted and he lost the will to live. But at long last, he found strength and comfort in my music and lyrics, especially from the album 'Battle Scars'. It led him out of the shadows and he wanted to live again. When I hear that, it really gets to me. It's the most beautiful compliment I can receive and more important than anything else. That's why I make music. By the way, my wife Marie has written a touching article about Daniel's story: 'How music healed me after the Paris attacks'. This article has been previously published on the American news and opinion website The Daily Beast.
Words and interview: Rick Warner || Translation to English: Geena Dee || Photos: Rijno Boon Photography
Photo review Walter Trout Ribs & Blues
'How Music Healed Me After The Paris Attacks' – Marie Trout – The Daily Beast (22-3 -2016)
Interview Walter Trout (november 2015)